Betadine Ready-To-Use Sore Throat Gargle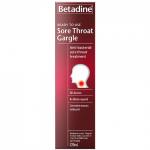 Active Ingredients
Povidone-Iodine 10mg/ml. Equivalent to 1mg/ml available Iodine. Also contains Sodium Saccharin and Ethanol (Alcohol).
Product Description
A sore throat may be due to a number of causes including smoking, allergic reactions and other factors. Most commonly though, they are due to a bacterial or viral infection of the throat.
Betadine Sore Throat Gargle kills most bacteria and viruses implicated in sore throat (pharyngitis) within 30 seconds and may be used as an aid in the treatment of such an infected sore throat.
Directions For Use
Betadine Ready-To-Use Sore Throat Gargle requires no dilution. Pour Betadine Sore Throat Gargle to the fill line of the measure cup provided (15ml) and gargle for 30 seconds. Do not swallow. Repeat every 3 to 4 hours as necessary.
Warnings & Cautions
Keep out of reach of children.
Do not use if hyper-sensitive to iodine. If irritation, redness or swelling develops, discontinue use and consult a doctor.
Not recommended for use during pregnancy or whilst breast-feeding.
A severe sore throat accompanied by fever, headache, nausea or vomiting, or any sore throat persisting for more than two days, may be serious. In such cases consult a doctor.
Mundipharma B.V., Netherlands.
No prices listed for this product.