Duro-Tuss Dry Cough Liquid Forte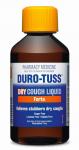 Active Ingedients
Each 5ml of oral liquid contains: Pholcodine 15mg. Also contains Sodium Benzoate, Saccharin Sodium and Sorbitol.
Product Description
Duro-Tuss Dry Cough Liquid Forte is for the temporary relief of stubborn dry coughs. Suitable for diabetics. Apricot flavour.
Dosage
Adults and children over 12 years: 5ml every 6 hours as required.
Maximum of 4 doses in a 24 hour period. Do not use in children under 12 years.
Warnings & Cautions
Keep out of reach of children.
Do not use in children under 12 years.
If cough persists, see your doctor or pharmacist.
Do not use this medicine with any other medicine (including complementary medicines) used to treat common cough and cold symptoms.
Products containing sorbitol may have a laxative effect.
This product may cause drowsiness. If affected do not drive a vehicle or operate machinery. Avoid alcohol.
iNova Pharmaceuticals (Aust) Pty Ltd.
No prices listed for this product.