Duro-Tuss Children's Cough Liquid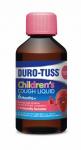 Active Ingredients
Each 10ml of oral liquid contains: Hedera Helix 84.5g (equiv. to Hedera Helix dry leaf 528mg), Lactoferrin-Bovine (derived from cow's milk) 50mg. Also contains Potassium sorbate.
Product Description
Duro-Tuss Children's Cough Liquid contains two natural active ingredients to help soothe and relieve coughs and chest congestion whilst boosting the immune system. Natural Strawberry flavour.
Dosage
Adults and children over 12 years: 10ml every 4 hours when necessary.
Children 2-12 years: 5ml every 4 hours when necessary.
Warnings & Cautions
Keep out of reach of children.
Do not use in children under 2 years.
Consult your healthcare professional before use during pregnancy or breastfeeding.
If cough persists, see your doctor or pharmacist.
This medicine contains 18.9g sorbitol per 60ml (maximum recommended daily dose). Products containing sorbitol may have a laxative effect or cause diarrhoea.
iNova Pharmaceuticals (Aust) Pty Ltd.
No prices listed for this product.