Nutra-Life Winter Multi One-A-Day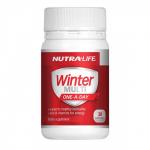 Product Description
Nutra-Life Winter Multi One-A-Day is formulated to support healthy immune function and energy levels during winter. It provides 4 immune-supporting nutrients: Vitamin C, Zinc, Astragalus and Selenium, plus B vitamins for energy.
Active Ingredients
Each capsule contains:
Astragalus (Astragalus membranaceus) root 1g
Olive (Olea europaea) leaf 1g, stand. equiv. Oleurpein 24mg
Selenium (from Selenomethionine) 25mcg
Zinc (as amino acid chelate) 7.5mg
Betacarotene 1.5mg
Thiamine nitrate 17.4mg, equiv. Vitamin B1 (Thiamine) 14mg
Vitamin B2 (Riboflavin) 14mg
Nicotinamide 14mg
Calcium pantothenate 22.2mg, equiv. Vitamin B5 (Pantothenic acid) 20mg
Pyridoxine hydrochloride 17.5mg, equiv. Vitamin B6 (Pyridoxine) 14mg
Vitamin B12 (Cyanocobalamin) 20mcg
Folic acid 120mcg
Biotin 20mcg
Vitamin C (Ascorbic Acid) 50mg
Dosage
Adults: Take 1 capsule daily with food, or as directed by your healthcare professional.
Warnings & Cautions
Keep out of reach of children.
Vitamin and mineral supplements should not replace a balanced diet.
This product contains selenium which is toxic in high doses. A daily dose of 150mcg for adults of selenium from dietary supplements should not be exceeded.
If symptoms persist consult your healthcare professional.
Vitaco Health (NZ) Ltd.
No prices listed for this product.