Nutra-Life Oliviral Immune Support High Strength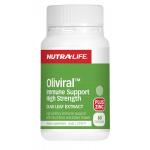 Product Description
Nutra-Life Oliviral Immune Support is a high-strength Olive Leaf supplement which works to support the body's natural immunity. Taken when required, Nutra-Life Oliviral Immune support may help to assist in the relief of coughs, provide antioxidant properties and work as a high potency immune support.
Active Ingredients
Each capsules contains:
Olive (Olea europaea) leaf 6g, stand. equiv. Oleuropein 132mg
Pau d'Arco (Handroanthus impetiginosus) stem bark 250mg
Elder (Sambucus nigra) flower 100mg
Zinc (as gluconate) 5mg
Dosage
Adults: Take 2 capsules daily with food, or as directed by your healthcare professional.
Warnings & Cautions
Keep out of reach of children.
If symptoms persist consult your healthcare professional.
Contains Zinc which may be dangerous if taken in large amounts or for a long period.
Vitaco Health (NZ) Ltd.
No prices listed for this product.