Nutra-Life Magnesium Complete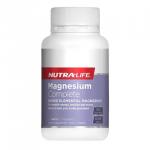 Product Description
Magnesium plays an important role in conducting nerve impulses and contracting and relaxing muscle fibres. This explains its role in relieving muscle cramps and tension and in helping to reduce stress and worry. Taken as directed, Nutra-Life Magnesium Complete can help to provide relief from muscle cramps, aches and spasms, relief from stress, nervous tension and worry and support for both bone and heart health.
Active Ingredients
Each capsule contains:
Magnesium (as oxide) 197mg
Magnesium (orotate) 8mg
Magnesium (as phosphate pentahydrate) 20mg
Magnesium (as amino acid chelate) 75mg
Total Magnesium 300mg
Dosage
Adults: Take 1 capsule daily with food or as directed by your healthcare professional.
Warnings & Cautions
Keep out of reach of children.
If symptoms persist, consult your healthcare professional.
Vitamin supplements should not replace a balanced diet.
Vitaco Health (NZ) Ltd.
No prices listed for this product.