Nutra-Life Magnesium + Gentle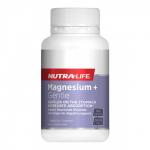 Product Description
Magnesium glycinate, an organic form of Magnesium, may be more absorbable than Magnesium oxide. Formulated with Ginger, traditionally used to help relieve minor digestive disturbances and act as a digestive aid. Taken as directed, Nutra-Life Magnesium + Gentle can help to provide relief from muscle cramps, aches and spasms, relief from stress, nervous tension and worry, and support for both bone and heart health.
Active Ingredients
Each capsule contains:
Magnesium (as glycinate) 100mg
Herbal extract equiv. dry - Ginger (Zingiber officinale) rhizome 667mg
Dosage
Adults: Take 3 capsules daily with food, or as directed by your healthcare professional.
Keep out of reach of children.
If taking blood thinning medication or blood pressure medicines consult your healthcare professional before use.
If symptoms persist, consult your healthcare professional.
Vitamin supplements should not replace a balanced diet.
Vitaco Health (NZ) Ltd.
No prices listed for this product.