Nutra-Life Joint Care Advanced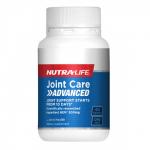 Product Description
Nutra-Life Joint Care Advanced is a new generation, joint support formula containing the scientifically researched ingredients, NEM brand eggshell membrane. Studies have shown that NEM may help support joint comfort and flexibility starting from 10 days.
Active Ingredients
Each capsule contains: NEM brand eggshell membrane 500mg.
Dosage
Adults: Take 1 capsule daily, or as directed by your healthcare professional.
Warnings & Cautions
Keep out of reach of children.
Derived from eggshell membrane. This product is not recommended for people who have an allergy to eggs.
If pregnant, breastfeeding or on prescription medication consult your healthcare professional before use.
Vitamin supplements should not replace a balanced diet.
If symptoms persist, consult your healthcare professional.
Vitaco Health (NZ) Ltd.
No prices listed for this product.