Centrum Advance 50+ Multivitamin Tablets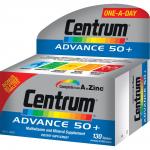 Product description
Centrum Advance 50+ Multivitamin & Mineral Supplement For Adults (previously called Centrum Select 50+) has a new, improved formula. It now also contains the added benefits of two new ingredients, Lutein to help support healthy eyes and Lycopene to help support a healthy heart. Centrum Advance 50+ is complete from A to Zinc.
Centrum Advance 50+ has been specifically formulated for the changing nutritional needs of women and men aged 50+. Taken daily, each tablet contains selected key nutrients to supplement your daily nutritional requirements. Centrum Advance 50+ contains a combinations of 26 essential vitamins and minerals including the key anti-oxidants (betacarotene, C and E). Anti-oxidants act as free radical scavengers. Free radicals are highly reactive substances which may occur in the body. Free radicals can be generated by normal metabolic processes, smoking, alcohol intake and certain preservatives in food.
Active Ingredients
Vitamin A (as Retinyl Acetate) 300mcg
Lutein 500mcg
Lycopene 600mcg
Betocarotene 1.8mg
Vitamin B1 (Thiamine Nitrate) 2.18mg
Vitamin B2 (Riboflavin) 3.2mg
Nicotinamide 15mg
Vitamin B6 (Pyridoxine Hydrochloride) 8mg
Vitamin B12 (Cyanocobalamin) 25mcg
Vitamin C (Ascorbic Acid) 90mg
Vitamin D3 (Cholecalciferol) 15mcg
Vitamin E (dl-alpha-tocopheryl Acetate) 75mg
Vitamin K1 (Phytomenadione) 25mcg
Biotin 45mcg
Folic Acid 300mcg
Calcium Pantothenate 10.8mg
Calcium 200mg
Phosphorus (as Calcium Hydrogen Phosphate)50mg
Potassium (as Sulfate) 80mg
Chromium (as Chloride) 100mcg
Copper (as Sulfate) 0.5mg
Iodine (as Potassium Iodide) 150mcg
Iron (as Ferrous Fumarate) 4mg
Magnesium (as Oxide) 50mg
Manganese (as Sulfate) 3.5mg
Selenium (as Sodium Selenate) 55mcg
Zinc (as Oxide) 7.5mg
Directions
Adults: Take one tablet daily.
Warnings and Cautions
Keep out of reach of children.
Store below 25 degrees celsius.
Centrum is a registered trademark Whitehall Laboratories Pty Ltd.
No prices listed for this product.