Albalon Eye Drops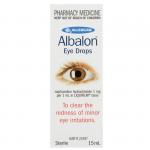 Maximum of 6 bottles per order.
Active Ingredients
Naphazoline Hydrochloride 1mg/ml.
Inactive Ingredients
Benzalkonium Chloride, Disoduim Edetate, Citric Acid, Sodium Citrate, Sodium Chloride, purified water.
Product Description
Albalon eye drops help clear the redness associated with minor eye irritations such as dust, wind, eyelashes etc.
Dosage
Instill 1 drop into each eye every 3-4 hours or as advised.
Warnings and Cautions
If currently using a prescription eye product please seek the advice of your doctor or pharmacist before using Albalon.
Do not use Albalon if you have a serious eye infection, glaucoma, or use soft contact lenses
Excessive or prolonged use may be harmful, if symptoms do not clear consult your doctor.
For external use only. Store below 25°C/75°F. Protect from direct sunlight.
Discard 4 weeks after opening
Albalon is a registered trademark of Allergan, Inc. Albalon is distributed in New Zealand by Allergan New Zealand Ltd, Auckland, New Zealand.