Hayfexo 180mg Tablets (Fexofenadine)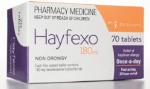 Active Ingredients
Each tablet contains fexofenadine hydrochloride 180mg.
Product Description
Hayfexo is a generic of Telfast that provides treatment of seasonal allergic rhinitis (hayfever), hives & skin rashes, insect bites and allergic skin itching.
Dosage
Adults and children over 12 years: Take one tablet daily as required.
Warnings & Cautions
Keep out of reach of children.
Always read the label and take only as directed.
Not recommended for children under 12 years.
This medicine is unlikely to affect your ability to drive or operate machinery, however a few people may be impaired and care should be taken.
Do not use if you are pregnant or may become pregnant. Check with your doctor or pharmacist before taking this medicine.
Do not exceed the recommended dose.
Dr. Reddy's Laboratories (Aust) Ltd.