Scopoderm TTS Patches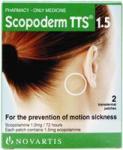 Active Ingredients
Each transdermal theraputic system contains 1.5mg scopolamine and releases in vivo 1.0mg/72 hours.
Product Description
Scopoderm TTS Patches are for the prevention of motion sickness. It is a small patch which is placed behind the ear and provides programmed release of the active substance through the intact skin into the bloodstream over a prolonged period of up to 3 days.
Directions
One Scopoderm TTS patch should be applied behind the ear about 5-6 hours before embarking on a journey.
Warnings and Cautions
For external use only.
Not for use in children under 10 years of age.
Pregnant and nursing mothers should only use Scopoderm TTS only after having consulted their doctor.
Avoid alcohol while using Scopoderm TTs.
See insert for full instructions.
Novartis Consumer Health Australisia Pty Ltd, Auckland.