Labixten (Bilastine) 20mg Tablets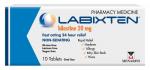 Active Ingredients
Each tablet contains Bilastine 20mg. Gluten, sugar and lactose free.
Product Description
Labixten is a new, non-drowsy antihistamine effective for the symptomatic treatment of allergic rhinitis and urticaria. Labixten offers 24 hour relief from the symptoms of hayfever, allergies and urticaria.
Use Labixten for:
Symptoms of hayfever
Sneezing
Itchy, runny, blocked-up nose
Red and watery eyes and other forms of allergic rhinitis
Itchy skin rashes (hives or urticaria)
Directions For Use
Adults and children over 12 years: Take one tablet every 24 hours for as long as required. Take on an empty stomach at least 1 hour before, or 2 hours after, food and/or fruit juice.
Warnings & Cautions
Do not use Labixten for children under 12 years old.
Seek medical advice before using during pregnancy or breastfeeding.
If symptoms persist after taking Labixten, consult your doctor or pharmacist.
Consult your doctor or pharmacist before use if you have kidney problems.
Although this medicine is unlikely to affect your ability to drive or operate machinery, a few people may be impaired and care should be taken.
Store below 30°C.
A. Menarini New Zealand Pty Limited.