Coloxyl with Senna Tablets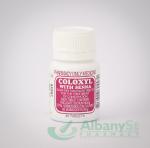 Active Ingredients
Docusate Sodium 50mg, Total sennosides (calculated as sennoside B) 8mg
Product Description
Coloxyl with Senna is a laxative with softener combined action formula. Coloxyl with Senna is free from gluten, lactose and preservatives. Coloxyl with Senna is available in 30 or 90 tablets.
Directions
Adult dosage:1-2 tablets at night. Increase up to 4 tablets if required.
Warnings and Cautions
Keep out of reach of children.
Drink pleanty of water and increase fibre in diet.
Prolonged use of any laxatives is undesirable and may lead to dependence. Consult doctor if constipation persists.
Protect form light. Store below 30°C.
Distributed in New Zealand by Pharmaco (N.Z.) Ltd, Auckland.