Difflam Sugar-Free Lozenges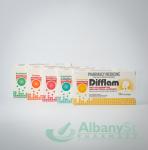 Active Ingredients
Benzydamine Hydrochloride 3mg, Cetylpyridium Chloride 1.33mg.
Inactive Ingredients
Saccharin Sodium.
Product Description
Difflam Sugarfree Lozenges have an anti-inflammatory and anti-bacterial effect so they provide fast effective relief for sore throats and mouths. Difflam Sugarfree Lozenges can give temporary relief from the pain associated with tonsillitis, mouth ulcers, pharyngitis, sore throats and local pain from dental surgery, mouth or throat surgery.Difflam Sugarfree Lozenges are also available in five different flavors - raspberry, doublemint, honey lemon, orange, and eucalyptus & menthol.
Dosage
Suck 1 lozenge as required up to a maximum of 12 lozenges per day.
Difflam lozenges work for up to 3 hours. For more severe cases use Difflam every 1 to 2 hours.
Difflam Sugarfree Lozenges are not recommended for children under 6 years
Warnings and Cautions
Do not use Difflam Sugarfree Lozenges for more than 7 days continuously.
Excess consumption may have a laxative effect.
Difflam Sugarfree Lozenges should not be chewed
If symptoms persist see your doctor
Store below 30°C/85°F.
Difflam Sugarfree Lozenges are a pharmacy medicine. Difflam is a registered trademark. Difflam Sugarfree Lozenges are manufactured by 3M Pharmaceuticals Pty Ltd, Australia and are distributed