Comvita Winter Wellness Throat Lozenges with Propolis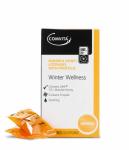 Active Ingredients
Active Manuka Honey, New Zealand Bee Propolis.
Product Description
Comvita Winter Wellness Throat lozenges use the power of Propolis for a completely natural lozenge that really does "tackle the tickle". Comvita Winter Wellness Throat Lozenges are available in 5 flavours - Original Aniseed, Lemon and Honey, Coolmint, Olive Leaf and Blackcurrent. All five flavours contain propolis and UMF 10+ Manuka Honey. All flavours are available in a pack size of 12 lozenges.
Directions For Use
Adults: Dissolve one lozenge slowly in the mouth. Repeat as required up to 5 times daily. Not to be given to children under 2 years of age.
Warnings and Cautions
Propolis may cause allergic reactions. Pregnant or lactating women - consult your health care practitioner before use.
Comvita New Zealand Ltd., Bay of Plenty, NZ.
No prices listed for this product.