GO Healthy Go Cranberry 60,000+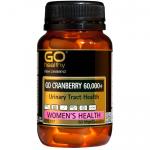 Product Description
Go Cranberry 60,000+ is a triple strength formula that soothes and supports the urinary tract and the bladder. Cranberry can be taken ongoing as a maintenance dose to support healing and health of the urinary tract.
Active Ingredients
Each VegeCap contains:
Cranberry (Vaccinium macrocarpon) ext. equiv. to dry fruit 60,000mg
Buchu (Barosma betulina) ext. equiv. to dry leaf 350mg
Bearberry (Arctostaphylos uva-ursi) ext. equiv. to dry leaf 250mg
Vitamin C (Ascorbic Acid) 110mg
Olive Leaf (Olea europaea) ext. equiv. to dry leaf 100mg
Zinc citrate (equiv. to 15mg Zinc) 48mg
Contains NO added: wheat, gluten, corn, yeast, milk, artificial flavours or preservatives. May contain encapsulating aids.
Directions
Take 1 VegeCap daily. Can be taken anytime, with food or on an empty stomach. Or as directed by your Healthcare Professional.
Warnings & Cautions
Keep out of reach of children.
If there is blood in the urine, seek immediate medical attention.
If symptoms persist for more than 48 hours consult your Healthcare Professional.
If pregnant or breastfeeding consult your Healthcare Professional prior to taking.
Medicine Interactions: If taking prescription medication or if in doubt consult your Healthcare Professional.
Always read the label and take only as directed.
Take in conjunction with a healthy balanced diet.
Store below 30 degrees celsius.
GO Healthy New Zealand, 71 Nelson Street, Petone, Lower Hutt 5012, Wellington, New Zealand.