BLIS HoneyBlis Lozenges with Probiotics & Manuka Honey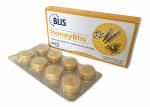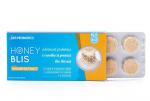 Active Ingredients
Kamahi and Manuka Honey (min 89%), Streptococcus Salivarius K12 (contains at least 1 billion cfu/lozenge at date of manufacture). Also contains Maltodextrin, tableting aids.
Product Description
BLIS HoneyBlis Lozenges contain the combined benefits of Kamahi and Manuka honey with BLIS K12, the world's first advanced oral probiotic developed to support oral health.
Helps promote a healthy mouth and throat
Helps support healthy immune defences
Re-populates the oral cavity with healthy bacteria
GMO free
Gluten free
No added sugar
No artificial colours or flavours
Directions For Use
For ages 3 years & up: Slowly dissolve one or two lozenges on the tongue each day. In times of high need, take a maximum of four lozenges per day.
Warnings & Cautions
Keep out of reach of children
Use only as directed
If you have an immune compromised condition, seek your doctor's advice before use.
Safe to use while pregnant or breastfeeding
Not suitable for children under 3 years
Store below 25degC
Blis Technologies Ltd, 10 Birch St, Dunedin, New Zealand