No-Shift-Lag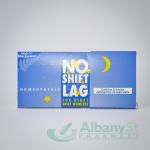 Active Ingredients
Contains equal parts of homeopathic preparations: Arnica Montana 30C, Bellis Perennis 30c, Ipecauanha 30c, Phytolacca Decandra 30C, Zincum Metallicum 30C
Product Description
No-Shift Lag is a homeopathic remedy to relieve symptoms of shift lag such as tiredness due to working night shifts.
Directions
Chew 1 tablets at the beginning of a shift, 1 tablet mid-shift and 1 tablet at the end of a night shift.
Distributed by: Pharmabroker Sales Ltd, Auckland.
No prices listed for this product.