Nu-Nails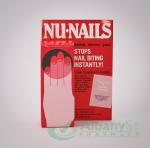 Product Description
Nu-Nails stops nail biting instantly. It is invisible, effective and quick. Nu-Nails is easily removed with ordinaly nail polish remover, and can be worn over any colour nail polish. Nu-Nails also includes a free booklet - "Your guide to beautiful fingernails" a special grooming guide to lovelier hands and nails once you have broken the nail biting habit with Nu-Nails.
Directions
Apply daily, as you would nail polish, until the nail biting habit is beaten. Then, by continuing to use Nu-Nails once or twice a week, you can be sure you won't start again.
Warnings and Cautions
Keep away from heat and flame.
Store out of reach of children.
Peerage Products Ltd, New Zealand.
No prices listed for this product.