Optrex Refeshing Eye Drops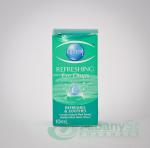 Active Ingredients
Distilled Witch Hazel BPC 13% v/v.
Inactive Ingredients
Benzalkonium Chloride BP 0.005% w/v.
Product Description
Optrex Refreshing Eye Drops new moisture replenishing formula is balanced at the natural pH level of tears, helping the eyes to feel soothed, rehydrated, comfortable and healthy. Everyday living can take its toll on our eyes. Driving, computer use, air conditioning or heating can make eyes feel tired and uncomfortable.
While tears are nature\'s way of flushing and cleansing the eye, there are times when your eyes will need a little extra help. Optrex Refreshing Eye Drops are suitable for everyday use and can be carried in a hand bag or pocket.
Dosage
Gently squeeze 1 or 2 drops into each eye
Warnings and Cautions
Do not use while or just before wearing soft contact lenses
For serious eye problems or if irritation develops with use speak to your doctor, pharmacist or optician.
For external use only. Store below 25°C/75°F. Protect from direct sunlight
Discard 4 weeks after opening
Boots Healthcare Auckland, New Zealand. The Optrex brand and design are trademarks of Optrex Ltd.
No prices listed for this product.