Poly-Visc Lubricating Eye Ointment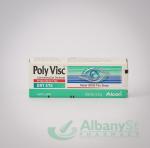 Ingredients
Paraffin and wool fat.
Product Description
Poly Visc Lubricating eye ointment is a specially formulated eye ointment designed to provide relief from the symptoms of dry eye, particularly while you sleep.
Dosage
Squeeze a ribbon of ointment (1 - 1.5 cm) into the affected eye(s) prior to going to sleep, or as directed by your doctor.
Warnings and Cautions
If irritation persists or increases, discontinue use and consult your doctor.
For external use only. Store below 25°C/75°F.
Discard 4 weeks after opening
Poly Visc is a registered trademark.