Comvita Propolis Cold Clear Tablets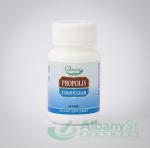 Active Ingredients
Propolis, Garlic, echinacea, Vitamin C and Zinc.
Product Description
Comvita Propolis Cold Clear is a powerful immune supporting supplement that works with your body's natural immune defences to help you during the winter season.
Dosage
Adults: Take one tablet daily to help maintain immunity.
Warnings and Cautions
Propolis may cause severe allergic reactions. Pregnant or lactating women - consult your healthcare practitioner before use.
Comvita New Zealand Ltd., Bay of Plenty, NZ.
No prices listed for this product.