Protex Antibacterial Soap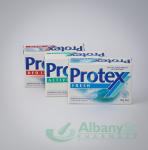 Active Ingredients
Trichlorocarbanilide 0.7%
Product Description
Protex soap is an antibacterial soap. Protex has a moisturising formula that helps your skin to retain more moisture than before, for soft and healthy skin.
Protex soap eliminates 99% of the bacteria commonly found on skin and creates a barrier of protection that continues to protect when ordinary soaps no longer do. Laboratory tests prove that Protex is effective in inhibiting the re-growth of bacteria that can infect pimples and cause other common skin infections.
Protex soap is available in 3 varieties:
Fresh - for long lasting freshness.
Cream - for that soft skin feel.
Active - for maximum protection for active people.
Directions
Use as soap.
If you would like to combine scents of Protex soap, please let us know when ordering by telling us using the "comments" section of your order. We would be happy to mix and match different Protex soap to suit your needs.
Trade Mark "Protex" Reg'd. Colgate-Palmolive, Petone, New Zealand.
No prices listed for this product.