Refresh Contacts Eye Drops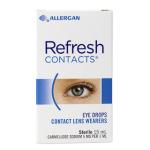 Active Ingredients
Carmellose sodium 5mg/ml.
Inactive Ingredients
Purite.
Product Description
Refresh Contacts Eye Drops provide moisturising relief from dryness and irritation associated with lens wear. The unique formula contains a long-lasting lubricant that actully helps your eyes retain moister, creating a cushion of comfort and protection. Refresh Contacts may be used with soft and RGP contact lenses. Safe to use as often as needed. For added comfort, place a drop in lenses prior to insertion.
Dosage
Instil 1 or 2 drops into each eye as needed or as directed
To lubricate and re-wet lenses during the day: With lenses on the eye, apply 1 to 2 drops to each eye as needed, or as directed by your eye care practitioner. Blink several times.
For extra comfort: Place 1 or 2 drops of Refresh Contacts eye drops on each side of each lens before application.
Warnings and Cautions
If irritation or redness persists or increases, discontinue use and consult physician
For external use only. Store below 25°C/75°F. Protect from direct sunlight.
Discard 4 weeks after opening
Allergan New Zealand Ltd. Auckland