Thin Lizzy's Perfect 10 Bronzing Powder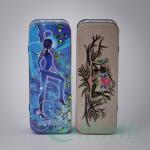 Product description
Thin Lizzy's Perfect 10 Bronzing Powder is a professional powder containing lustrous pearlized particles for a beautiful radiant glow. It significantly reduces the appearance of freckles, acne and other skin conditions and it works by reflecting your natural skin tone which means it will match all skin tones. Each box contains 2 x Thin Lizzy's Perfect 10 Bronzing Powder 10g, 2 x brushes and 2 x Lip Gloss. Thin Lizzy's Perfect 10 Bronze is available in dark and light. Light is suitable for fairer skin.
Directions for use
Thin Lizzy's Perfect 10 Bronzing Powder can be used as:
A foundation: Simply brush lightly all over the face, remembering the more you apply the darker you become.
A blusher/bronzer: For a quick sun kissed glow, brush Thin Lizzy's Perfect 10 where the sun naturally hits the face - the forehead, over the nose, across the cheeks and on the chin.
An eye shadow: With an eyeshadow brush, lightly brush across the eyelids.
A lipstick: With a small brush or cotton tip, brush onto your lips followed by a clear lip gloss.
A contour: This gives you the appearance of higher cheek bones. Brush lightly between the top and bottom of the ear and under your cheekbone about 2-3 centimetres.
An all over body bronzer: To extend the life of your tan or for a healthy, radiant glow, apply to skin with rotating brush motions. The brush is designed to disperse the hairs evenly over the skin.
Brand Developers Ltd, Auckland, New Zealand.
No prices listed for this product.