Nads for Men Hair Removal Cream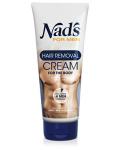 Product Description
Nad's For Men Hair Removal Cream removes unwanted hair in minutes. The cream contains soothing Aloe Vera to protect the skin, whilst the active agents target the hair shaft for effective and smooth removal.
Suitable for use on chest, back, legs and arms.
Directions For Use
Apply the cream generously on the area to be treated. Using your hand, smooth cream on to completely cover hair with a thick, even layer. Do not rub in.
Leave cream on the area to be treated for at least 4 minutes. Using a soft cloth, test a small area for hair removal. If hair does not come away easily, leave the cream on for a few more minutes, without exceeding 10 minutes in total.
Wipe cream and hair away using a soft cloth.
Rinse treated area thoroughly with water and gently dry.
Warnings & Cautions
CORROSIVE
Keep out of reach of children.
Do not swallow. For external use only.
Keep away from eyes. Avoid contact with skin, except as per instructions. Incorrect use may harm eyes and skin.
Do not leave on skin for longer than 10 minutes. Prolonged use may produce burns.
Do not use on sunburnt, broken, inflamed or irritated skin. Do not use over warts, pimples, scars, moles or wounds.
Do not use if you have had an adverse reaction to hair removal cream in the past.
Not suitable for use on face, scalp, eyes, eyebrows, nose, ears, nipples, perineal or genital areas.
Patch test on a small area of skin 24 hours before use.
If you experience any tingling or burning sensations during use, remove the cream immediately & rinse thoroughly with water. If this sensation persists, seek medical advice.
Always wait 24 hours after use before applying antiperspirant, perfume or astringent lotion to the treated area.
Always wait at least 72 hours between applications.
Avoid contact with jewellery as discolouring may occur.
Product may cause surfaces to become slippery.
Ensure cream is rinsed thoroughly from shower surfaces.
If unwanted contact with skin or hair occurs, remove contaminated clothing and flush hair and/or skin with running water.
Store below 30degC.
SI&D, 29-31 Solent Cct, Baulkham Hills, NSW, Australia.
No prices listed for this product.