GO Healthy Go Prostate Protect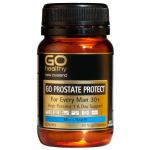 Product Description
Go Prostate Protect provides a complex of key ingredients that help to support prostate function and healthy urine flow. Saw Palmetto has been supplied in a maximum strength dose to provide optimum support for the prostate. Supplied in a convenient one a day dose for long term protection.
For every man 30+
High potency formula that supports healthy prostate function
Supports healthy urine flow
Supports normal sexual function
Active Ingredients
Each VegeCap contains:
Saw Palmetto (Serenoa repens) ext. equiv. to fruit dry 4500mg
Epilobium (Epilobium parviflorum) ext. equiv. dry leaf 1000mg
Damiana (Turnera diffusa) ext. equiv. to dry herb 320mg
Zinc citrate (equiv. to Zinc 15mg) 50mg
Pumpkin Seed ext. equiv. to dry seed 100mg
Lycopene (from Tomatoes equiv. to 29,190mg) 5mg
Selenium (as Selenomethionine) 50mcg
Contains NO added: wheat, gluten, corn, yeast, milk, artificial flavours or preservatives.
Directions
Take 1 VegeCap daily. Can be taken anytime, with food or on an empty stomach. Or as directed by your Healthcare Professional.
Warnings & Cautions
Keep out of reach of children.
This product contains selenium which is toxic in high doses. For adults, 150mcg of selenium from dietary supplements should not be exceeded.
Medicine Interactions: If taking prescription medication or if in doubt consult your Healthcare Professional.
Always read the label and take only as directed.
Store below 30 degrees celsius.
Take in conjunction with a healthy balanced diet.
GO Healthy New Zealand, 71 Nelson Street, Petone, Lower Hutt 5012, Wellington, New Zealand.