Visine Eye Drops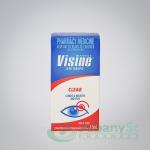 Active Ingredients
Tetrahydrozoline Hydrochloride 0.05%.
Inactive Ingredients
Benzalkonium Chloride 0.01% w/v, Disoduim Edetate 0.1 w/v, sterile Isotonic Sodium Chloride/Borate buffer.
Product Description
Visine eye drops help to give fast effective relief from irritants including wind, dust, chlorinated water and the sun. All of which cause burning, itching, congestion and redness. Visine eye drops help ease the effects and removes the redness.
Dosage
Place 1 or 2 drops in each eye 2 or 3 times daily
Visine is not recommended for use in children under 6 years of age except on medical advice
Warnings and Cautions
Do not use Visine if you experience eye pain, changes in vision, continued redness or irritation of the eye, or if the condition worsens or persists for more than 72 hours. Discontinue use and consult a physician as this may be the sign of a more serious condition.
Do not use in the presence of narrow angle glaucoma and serious eye infections
If you are using prescription eye drops, or if you are pregnant or nursing a baby, seek the advice of a doctor or pharmacist before using.
Do not substitute for contact lens fluid.
Remove contact lenses before using this product, and do not reinsert for 15 minutes after instillation of drops.
For external use only. Store below 30°C/85°F.
Discard 4 weeks after opening
Visine is a registered trademark and is distributed in New Zealand by Pfizer Laboratories Limited, Auckland, New Zealand.