Mentholatum Ice Gel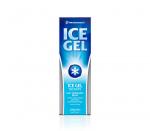 Active Ingredients
Menthol 20mg/g.
Product Description
Mentholatum Ice Gel is a fast acting cooling pain relief gel for temporary relief from muscular aches, strains and sprains, and backache. Mentholatum Ice Gel's active ingredient is Menthol 20mg/g and is endorsed by the Chiropractic and Osteopathic College of Australasia.
Application
Apply Ice Gel liberally to the painful area. Massage until completely absorbed into the skin. Repeat Ice Gel application as often as needed.
Warnings and Cautions
Mentholatum Ice Gel is for external use only.
Avoid Contact with the eyes, open wounds or mucus membranes.
Do not bandage apply heat.
Keep away from children.
Ice Gel should be stored below 30°C/85°F.
Mentholatum Ice Gel is Manufactured in Australia and distributed by Ebos Group Limited