Nurofen Gel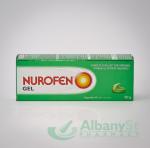 UNFORTUNATELY, THIS PRODUCT HAS BEEN DISCONTINUED & IS NO LONGER AVAILABLE.
Active Ingredients
Ibuprofen 5%w/w.
Inactive Ingredients
Benzoyl Alcohol 1%w/w.
Product Description
Nurofen Gel is a topical analgesic and anti-inflammatory containing ibuprofen for the temporary relief of pain and inflammation in conditions such as backache, rheumatic and arthritic pains, muscular pains, sprains and sports injuries. Nurofen Gel is for the relief of minor and temporary ailments and should be used strictly as directed. Prolonged use with out medical supervision could be harmful.
Application
Adults and Children over 12 years - Squeeze 4-10cm of gel onto the affected area then replace the cap. (this represents a dose of 50 – 125mg of ibuprofen) Gently rub the gel in until it is absorbed – then wash your hands.
Children under the age of 12 years should not use Nurofen Gel.
Do not reapply more gel within 4 hours.
Do not apply it more than 3 to 4 times in 24 hours.
Warnings and Cautions
Do not Nurofen Gel on broken skin, on the lips or near the eyes.
Talk to your doctor if your symptoms worsen or if there is no improvement after 2 weeks use.
Discontinue use if a rash or irritation occurs.
Do not use if you are allergic to aspirin, ibuprofen or other anti-inflammatory medicines. Asthmatic patients in whom aspirin or other analgesic are known to precipitate asthma attacks should seek medical advice before using Nurofen Gel.
It is recommended that Nurofen Gel should not be used during pregnancy except under medical supervision and is not to be used during the last three months of pregnancy.
Nurofen Plus is a pharmacy only medicine. Nurofen Plus is a registered trademark of the Boots Company.
No prices listed for this product.