GO Healthy Go Co-Enzyme Q10 Ubiquinol 100mg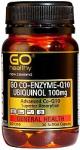 Product Description
Go Co-Enzyme Q10 Ubiquinol 100mg is a high potency Co-Enzyme Q10 supplement, supplied in the superior Ubiquinol form. Ubiquinol is easily assimilated as it is "pre-converted" and ready for immediate use allowing the body to utilize and uptake much higher levels of Co-Enzyme Q10. Co-Enzyme Q10 is one of the most important nutrients for the production of energy in our cells. Co-Enzyme Q10 is found in every living cell in the body and supports the health of the heart, energy levels and and is a known powerful antioxidant, helping to protect our body from free radical damage.
Active Ingredients
Each SoftGel Capsule contains: Co-Enzyme Q10 (Ubiquinol) 100mg.
Contains NO added: wheat, gluten, corn, yeast, milk, artificial flavours or preservatives. May contain encapsulating aids.
Directions
Take 1-2 SoftGel Caps daily. Best taken with food. Or as directed by your Healthcare Professional.
Warnings & Cautions
Keep out of reach of children.
Not to be taken during pregnancy and lactation.
Medicine Interactions: Do not take if on blood thinning medication without medical advice. If taking prescription medication or if in doubt consult your Healthcare Professional.
Always read the label and take only as directed.
Take in conjunction with a healthy balanced diet.
Store below 30 degrees celsius.
GO Healthy New Zealand, 71 Nelson Street, Petone, Lower Hutt 5012, Wellington, New Zealand.
No prices listed for this product.