Xergic Tablets (Generic of Telfast)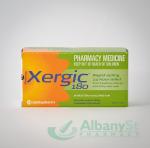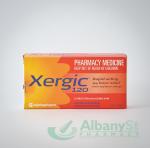 Active ingredient
Contains either 120mg or 180mg of fexofenadine hydrochloride per tablet.
Product description
Xergic provides rapid acting, 24 hour relief from allergies. Xergic 120mg is for the relief of symptoms of hayfever allergies such as sneezing, itchy throat, itchy and runny nose and itchy and watery eyes. Zergic 180mg is also for the relief of these symptoms as well as the relief of symptoms from an itchy skin rash or hives such as swelling related to allergy, swelling related to hives and itching caused by hives. Xergic is available in either 10 tablets or 30 tablets per pack.
Directions for use
Adults and children over 12 years: Take one tablet daily, as required.
Warnings and cautions
If you are pregnant or may become pregnant, check with your doctor or pharmacist before taking Xergic.
Although this medicine is unlikely to affect your ability to drive or operate machinery, a few people may be impaired and care should be taken.
Alphapharm Pty Limited, Australia.
No prices listed for this product.