Strepsils Numbing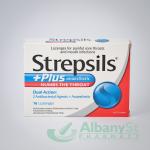 Active Ingredients
Dichlorobenzyl Alcohol 1.2mg, Amylmetacresol 600 micrograms Lignocaine Hydrochloride 10mg.
Product Description
Strepsils Numbing Anaesthetic lozenges(previously known as Strepsils Plus)have been specially formulated to give effective and rapid relief from severe sore throats. Their formula contains a local anaesthetic to numb the throat while two antibacterial/antiseptic agents help attack a wide range of bacteria which cause throat and mouth infections including sore throat
If symptoms persist, worsen or new symptoms develop, consult your doctor. Care should be taken when consuming liquids and food after sucking a lozenge
Dosage
Adults and Children over 6 years - One lozenge to be sucked every 2 hours as required.
Do not take more than 8 Strepsils Numbing lozenges per day
If symptoms persist, consult your doctor
Strepsils Numbing lozenges are not recommended for children under 6 years of age.
Do not exceed the stated dose
Registered Trademark of Boots Company PLC Marketed by Boots Healthcare New Zealand Limited Wellington
No prices listed for this product.