Tangle Teezer Salon Elite Detangling Hairbrush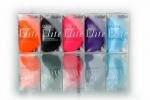 Product Description
Tangle Teezer Salon Elite is a professional detangling hairbrush that can be used on wet or dry hair without any pulling or yanking. The patented design features:
Revolutionary teeth configuration for dual action, giving pain-free detangling
Memory flex technology for speedy and gentle results, ideal for wet or dry hair
Innovative centralised concave design that delivers optimum results from roots to ends
Ergonomic design for a palm friendly, non-slip fit.
Made in Great Britain.
Directions For Use
Use on wet or dry hair as desired. Suitable for all hair types. Do not use with heat.
Warnings & Cautions
Do not use with heat styling tools.
Tangle Teezer Ltd, London, UK.
No prices listed for this product.