Cromolux Eye Drops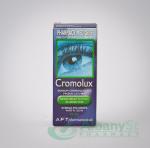 Active Ingredients
Sodium Cromoglycate BP 2% w/v.
Product Description
Using Cromolux for about a week before the expected allergy season may help reduce the symptoms associated with eye allergies.
Dosage
Adults and children - 1-2 drops into each eye 4-6 times a day at regular intervals.
Warnings and Cautions
Soft contact lenses should not be worn during treatment period.
For external use only.
Store below 25°C/77°F.
Protect from direct sunlight.
Discard 4 weeks after opening
Distributed by: AFT Pharmaceuticals Ltd, Auckland, New Zealand
No prices listed for this product.