De-Gas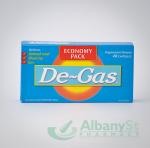 Active ingredient
Simethicone 100mg
Inactive ingredients
Hydroxybenzoates. No artificial colouring or flavouring.
Product description
De-Gas relieves the pressure and discomfort caused by a build up of natural wind in the body. Simethicone has been used for many years to help relieve wind, gas and bloating. It has no reported side effects. De-Gas is useful for adults and children and is suitable for pregnant women. Each packet of De-Gas contains 24 peppermint flavoured capsules.

Dosage
To be taken after meals, at bedtime or as needed. Capsules should be swallowed whole, with water if desired. Adults and children over 12 years: 1 or 2 capsules. Children 6 to 12 years: 1 capsule. Not recommended for children under the age of 6 years.
Warnings and cautions
Keep out of the reach of children.
Not recommended for infants.
If symptoms persist, consult your doctor.
Store below 25 degrees celsius in a dry place.
Wyeth Consumer Healthcare Pty Ltd, Wellington, New Zealand.
No prices listed for this product.