Mintec - Natural Relief of Symptoms of Irritable Bowel Syndrome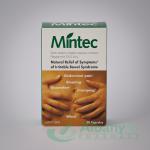 Active ingredient
Each enteric coated capsule contains Peppermint Oil 0.2ml.
Product description
Mintec provides natural relief of the bloating, abdominal pain, wind, cramping and discomfort associated with Irritable Bowel Syndrome. The special coating delays release of the medication until it reaches the lower small bowel and colon.
Dosage
Adults: One capsule 3 times a day or as directed. Swallow the capsule whole with water, preferably 30 minutes before meals. Do not take capsules immediately after a meal.
Warnings and cautions
Not recommended for children.
Not recommended for use in pregnancy unless on the advice of a doctor.
Store below 25 degrees celsius and protect from light and moisture.
Key Pharmaceuticals Pty Ltd, Australia.