Trilogy Certified Organic Rosehip Oil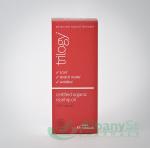 Active Ingredients
Rosa Canina (Rosehip) Seed Oil
Product Description
Trilogy Certified Organic Rosehip Oil is a lightweight, non-greasy, golden oil contains Omega 3, 6 & 9, essential fatty acids and antioxidants to restore optimum skin health. Trilogy Certified Organic Rosehip Oil has been clinically tested and shown to help minimise the appearance of wrinkles, smooth the skin and dramatically improve skin moisture levels, leaving the skin's appearance radiant and glowing. Trilogy Certified Organic Roship Oil is ideal for wrinkles and fine lines, softening and smoothing skin, daily moisturising and renewing, restoring and smoothing the skin. Available in either a 20ml or 45ml glass dropper bottle.
Distributed by Nutralife Health & Fitness
No prices listed for this product.