Trilogy Cream Cleanser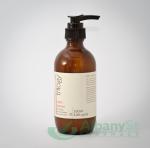 Active Ingredients
Evening Primrose, Certified Organic Rosehip Oil, Jojoba and Carrot.
Product Description
Trilogy Cream Cleanser is a true beauty product; it does more than just remove makeup and impurities from face and eyes. Its emollient action leaves skin supple and is the perfect preparation for your skin, morning and night. Includes nourishing Rosehip and Evening Primrose oils and Aloe Vera to moisturise and soften your skin. Available in a 200ml glass pump bottle. Also available in a 50ml glass bottle as part of the Trilogy Travellers pack.
Distributed by Nutralife Health & Fitness
No prices listed for this product.