Trilogy Ultra Hydrating Cream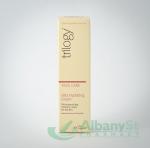 Active Ingredients
Honey, Certified Organic Rosehip Oil, Coconut, Avocado and Lavender.
Product Description
Trilogy Ultra Hydrating Cream is a creamy, antioxidant-rich moisturiser, ideal for the daily care of dry, weakened skin. Pure plant emollients, including Rosehip, Avocado and Evening Primrose, lock in moisture helping restore elasticity and softness for long-lasting comfort. Air-conditioning, long-haul flights and cold winter weather can all cause skin dryness. This intensively nourishing cream re-hydrates and rejuvenates your skin to reveal a healthy, radiant complexion. Available in a 75ml tube.
Distributed by Nutralife Health & Fitness
No prices listed for this product.