Trilogy Eye Contour Cream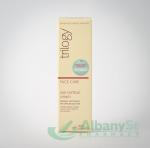 Active Ingredients
Aloe Vera, Vitamin A, Certified Organic Rosehip Oil, Avocado and Carrot.
Product Description
Restore and revive the delicate skin around the eye area with Trilogy Eye Contour Cream. This light and velvety blend of cooling Aloe Vera and nutrient-rich Rosehip, Avocado and pure plant oils revives tired eyes while minimising the appearance of fine lines, leaving the eye area perfectly moisturised and visibly smoothed. Available in a 20ml tube.
Distributed by Nutralife Health & Fitness
No prices listed for this product.