Trilogy Everything Balm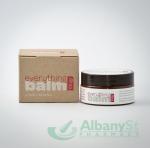 Active Ingredients
Beeswax, Marula Nut, Olive and Certified Organic Rosehip Oil.
Product Description
Trilogy Everything Balm is a multi-tasking beauty tool which will help cut your beauty kit in half. This natural balm combines pure plant ingredients to sooth, soften and condition all skin types, anywhere on the face or body. It combines antioxidant-rich Certified Organic Marula Oil and Certified Organic Rosehip Oil, both revered for their skin healing and preservative properties, as well as Jojoba, Olive, Avocado, Honey and Vitamin E to deeply nourish your skin. It softens dry elbows, knees, hands and feet. It also provides pure and natural skin care for baby and makes dry lips delicious again. A perfect travel companion. Available in either a 45ml or 95ml glass jar.
Distributed by Nutralife Health & Fitness
No prices listed for this product.