Vicks Digital Thermometer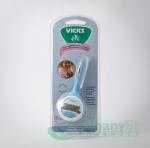 Product Description
Vicks Digitial Thermometer is the convenient and gentle way to take temperatures. With it's unique Comfort Disc technology, comfortable finger grips and a large LCD display, the Vicks Digital Thermometer provides an accurate reading in only 30 seconds. A beep signals when the reading is complete and the memory recalls the last temperature taken for fever tracking. The Vicks Digital Thermometer is waterpoof for easy cleaning.
Directions For Use
Place the Comfort Disc end of the Vicks Digital Thermometer under the arm and close arm. Keep the arm close to the side of the body to help trap heat under the arm. Remove from underarm when beep sounds.
Felton Grimwade & Bickford, Ltd, Victoria, Australia.
No prices listed for this product.