Mosquito Band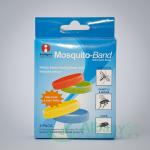 Active Ingredients
Citronella 15% w/w.
Product Description
The Mosquito-Band Anti-insect Band has a natural essence which has been refined to effectively keep mosquitoes and insects away. The silicone base has been used to contain the repellent which makes it highly durable, waterproof and convenient to wear and use. Citronella has been registered as a mosquito repellent against mosquito bites. The Mosquito Band is no-toxic and DEET free and is effective for up to 48 hours. Contains 2 Mosquito Bands per box.
Directions For Use
Mosquito Band is easy to use. Just wear it on the wrist or ankle. Remove the individual packaging to release the Citronella scented fragrance that helps to protect you for up to 48 hours. It is perfect for climbing, fishing, camping, picnics and other outdoor activities where insect and mosquito repellent is necessary.
Warnings and Cautions
Keep out of reach of children.
Keep away from food preparation areas and cooking utensils.
For external use only, do not swallow.
Wash hands after use.
Keep away from eyes. If contact occurs, flush eyes with water and consult your doctor.
Stop using if allergic reaction occurs and consult your doctor.
Intelligent Health Systems, Victoria, Australia.
No prices listed for this product.