Diastop Tablets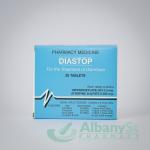 Unfortunately this product has been discontinued by the manufacturer and is no longer available.
Active Ingredients
Each tablet contains Diphenoxylate HCI 2.5mg and Atropine Sulphate 0.025mg.
Product Description
Diastop Tablets are for the treatment of diarrhoea. Each pack contains 20 tablets.
Dosage
Children 2-5 years of age or body weight of 15-20kg: 1 tablet twice daily.
Children 5-8 years of age or body weight of 20-27kg: 1 tablet 3 times daily.
Children 8-12 years of age or body weight of 27-35kg: 1 tablet 4 times daily.
Adults and children over 12 years of age: 2 tablets 3-4 times daily.
Warnings and Cautions
Do not exceed stated dose.
As with all medication, check with your pharmacist or doctor before using Diastop if you are taking other medication or are pregnant or breastfeeding.
Keep out of reach of children.
Store below 25 degrees Celsius.
This product is gluten free.
Pacific Pharmaceuticals Ltd, Auckland, New Zealand.
No prices listed for this product.