Bondi Sands Self Tanning Lotion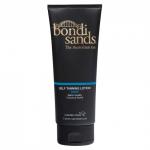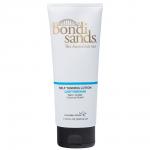 Product Description
Bondi sands self tanning lotion glides effortlessly over your skin and dries in seconds to a natural, flawless tan. Enriched with aloe vera for soft smooth skin & infused with the scent of fresh coconut.
Made in Australia. Not tested on animals.
Directions For Use
For an even streak free tan, ensure your skin is clean, exfoliated and free of any moisturisers
Apply evenly and liberally to face and body with a tanning mitt. Use sparingly on knees and elbows
Skin may be washed after one hour. For a longer lasting darker tan leave lotion on skin for up to 6 hours. Shower with warm water and gently pat skin dry. For the deepest tan re-apply bondi sands lotion 30 minutes after initial application
Warnings & Cautions
Keep out of reach of children
For external use only. If swallowed, seek immediate medical advice from a doctor or poisons centre.
Keep away from eyes.
If irritation occurs, discontinue use & seek medical advice
This product does not contain sunscreen & does not protect against sun exposure.
Bondi Sands, Port Melbourne, VIC 3207, Australia.