Merino Luxurious Lanolin Soap Bar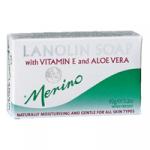 Active Ingredients
Contains pure vegetable oils, glycerine, Lanolin, Aloe Vera and Vitamin E. Contains NO animal fat (tallow) or caustic substances that are usually found in most other soaps.
Product Description
The pure palm oil base of Merino's Luxurious Lanolin Soap Bar is enhanced with just enough pure Glycerin, Vitamin E and Lanolin to create a luxurious cleanser that purifies without diminishing the skins natural moisture levels. Lanolin is nature's skin protector and nourishing agent. Glycerin is a powerful humidifier and Vitamin E has unique anti-aging properties.
Directions For Use
Merino Luxurious Lanolin Soap Bar is especially recommended for use on the face. It is gently enough for everyday use and is suitable for the whole family.
Merino Skincare, Christchurch, New Zealand.
No prices listed for this product.