Centrum for Women Multivitamin Tablets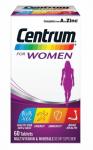 Product Description
Centrum for Women is personalized for women and helps support energy, immunity, and metabolism. Additionally, this multivitamin contains nutrients to help women maintain a healthy appearance and contains higher levels of vitamin D for strong bones.Centrum is backed by over 30 years of nutritional science to bring you the most complete multivitamin.
Energy: B-vitamins and iron to help support daily energy needs.
Immunity: Antioxidants, such as Vitamins C, E, Beta-Carotene and Zinc, to help support normal immune function.
Metabolism: B-vitamins to aid in the metabolism of fats, carbohydrates, and proteins.
Healthy Appearance: Biotin, beta-carotene, vitamins A, C, and E help maintain healthy skin, hair, and nails.
Made in Canada.
Directions For Use
Adults: Take one tablet daily with water. Do not exceed recommended daily dose.
Active Ingredients
Vitamin A (as retinyl acetate) 300mcg
Betacarotene 600mcg
Vitamin D3 (cholecalciferol) 20mcg
Lutein 1mg
Lycopene 600mcg
Vitamin K1 (phytomedadione) 20mcg
Calcium Pantothenate 11.9mg
Vitamin B1 (thiamine nitrate) 4.2mg
Nicotinamide 14mg
Vitamin B2 (riboflavin) 3.85mg
Vitamin B6 (pyridoxine hydrochloride) 6mg
Vitamin B12 (cyanocobalamin) 21.6mcg
Vitamin H (biotin) 45 mcg
Folic Acid 400mcg
Vitamin E (dl-alpha-tocapheryl acetate) 28mg
Vitamin C (ascorbic acid) 150mg
Calcium (as calcium carbonate 394.6mg and calcium hydrogen phosphate 5.8mg) 400mg
Magnesium (as oxide) 64mg
Iron (as ferrous fumarate) 7.5mg
Zinc (as oxide) 8mg
Manganese (as sulfate) 5mg
Chromium (as chloride) 25mcg
Selenium (as sodium selenate) 55mcg
Copper (as sulfate) 900mcg
Iodine (as potassium iodide) 150mcg
Contains sodium benzoate, lactose, sorbic acid, colourings & tabletting aids. No added gluten, eggs, fish and crustacean products.
Warnings & Cautions
Keep out of reach of children
When taken in excess of 3000mcg retinol equivilents, Vitamin A can cause birth defects. If you are pregnant or considering becoming pregnant, do not take Vitamin A supplements without consulting your doctor or pharmacist.
Not recommended for breastfeeding women, unless advised otherwise by a health professional.
Contains selenium, which is toxic in high doses. Do not exceed a daily dose of 150mcg for adults of selenium from dietary supplements.
Vitamin supplements should not replace a balanced diet
Not for the treatment of iron deficiency conditions
In case of accidental overdose, contact your doctor or Poisons Information Centre immediately.
If taking other supplements, read label since supplements may contain the same ingredient(s)
Store below 25°C
Pfizer New Zealand Ltd, Auckland, New Zealand.
No prices listed for this product.