Bausch + Lomb Re-Nu Fresh Multi-Purpose Contact Lens Solution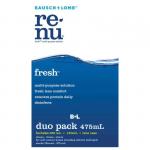 Product Description
Re-Nu Fresh Multi-Purpose Solution is specially formulated to work with your natural tears. Experience the feeling of wearing a fresh pair of lenses cushioned in moisture.
Benefits include:
Removes protein deposits that accumulate during wear
Enhances wettability
Removes dirt and debris that deposit on your lens for clearer vision
Effectively kills micro-organisms on your lens
Balances solution for your lens wearing comfort
Daily use of Re-Nu Fresh Multi-Purpose Solution eliminates the need for a separate enzymatic cleaner or daily cleaner for many lens wearers - consult your eye care professional.
Warnings and Cautions
Always discard solution from lens case after each use
Keep the bottle tightly closed when not in use
Use before expiration date marked on the carton and bottle
Discard remaining solution within 90 days after opening
Keep out of reach of children
Store below 30ºC
Do not mix with other fluids except as directed
Distributed by Bausch & Lomb New Zealand Ltd., C/- 2A Fisher Cresent, Mt Wellington, Auckland